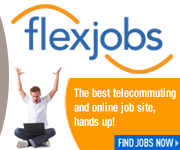 Virtual Receptionist
You'll be answering incoming calls from busy women who need to set up appointments for services at the nation's premier chain of blow dry bars. The client is looking for energetic, articulate and computer-savvy professionals to represent their brand. You'll be multi-tasking between different computer applications while maintaining a friendly and fun brand image. Your callers will be counting on you for a phone experience as relaxing as their visit while you leverage your knowledge and expertise around the services and products that the boutiques provide. Agents are compensated at 25 cents per minute of talk time, or $15 per full hour of talk time, so you can optimize your business income by providing services during peak evening and weekend calling windows.
You're a problem-solver and amazing with customers! You're enamored by the way things operate, and have the ability to figure out how technology works when things go wrong. You can multitask across systems and applications, analyze and resolve a variety of complex technical issues, and comfortably navigate a technical environment. You have excellent verbal and written communication skills, as well as the ability to effectively prioritize and manage your time. You're not only here to help fix technical issues, but also provide an incredible customer experience. Because you'll work independently from home, you'll need the discipline and ability to work remotely from coworkers and management. If this sounds like you, you could be the next At Home Advisor for our Chat teams. This role requires you to work on a Graveyard Shift which is between the hours of 9:00 pm CST - 6:00 am CST and operated 7 days a week.
McKesson is in the business of better health and we touch the lives of patients in virtually every aspect of healthcare. At McKesson Specialty Health, our products and services span the full continuum of specialty patient care. From the initial phases of a product life cycle and the distribution of specialty drugs, to fully integrated healthcare technology systems, practice management support, and ultimately to patient care in the communities where they live, we empower the community patient care delivery system by helping community practices advance the science, technology and quality of care.
We have a vision —that the long-term vibrancy of community care will be achieved through the leadership of physicians committed to clinical excellence and innovation, enabled by close collaboration with our organization and our deep clinical, operational and technological expertise. Every single McKesson employee contributes to our mission—by joining McKesson Specialty Health you act as a catalyst in a chain of events that helps millions of people all over the globe. You'll collaborate on the products and solutions that help us carry out our mission to improve lives and advance healthcare. Working here is your opportunity to shape an industry that's vital to us all.
If you've ever been in an accident or had your home damaged, then you know how traumatic it can be. When you make that call to the insurance company, you need to talk to someone who listens and understands what you have been through. Someone who reassures you, who sounds like a friend, and who listens and makes the process easy.
As a LiveOps independent claims agent, you can be that someone.
LiveOps independent insurance claims agents are empathetic and have calm, soothing voices that help them walk the caller through the claims process with ease. They have patience and compassion and genuinely care about the caller and making the process easy while still getting all the information they need. For those few minutes, they make a connection that assures the caller that they are being taken care of and that everything will be all right. They take pride in knowing that they've entered a claim accurately and provided accurate information.